FIELD TRIPS
We invite you and your classroom for a fun and educational farm adventure that will include three learning stations and a HUGE pumpkin patch!  We combine our love for learning and agriculture with our love for teaching to create fun interactive activities for your students.  Our farm tour reinforces how pumpkins and blueberries grow, how bees make honey and the life cycle of a fruit tree.  The students will also watch the fish being fed.  We hope that you bring your picnic lunch and stay to play.  Each student will receive a MINI pumpkin and a honey bear sample.  The teacher will receive a large pumpkin for their classroom.  Students will leave with a better understanding of agriculture and how farms affect their lives every day.  We hope you and your class will join us this fall for a FARMtastic day!
Don't forget the camera, this is one of many great photo opportunities!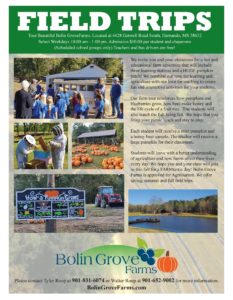 Cost
$10.00 per student
Teachers, Parents, Grandparents, chaperones and bus drivers are free.
Siblings, etc. pay $6.50.
Must make one payment for the entire group to receive this special rate.  Those that pay individually will pay $10.00 + tax.
Bolin Grove Farms is approved for Agritourism. We offer spring, summer and fall field trips.
Only a few select 2021 field trip dates left, RESERVE YOUR FIELD TRIP DAY AHEAD!  Contact Tyler Roop at 901-831-6074 for more information.